What to Wear to Disney Springs | Easily Explained
Dressing incorrectly for any entertainment destination can negatively affect your experience for an entire day.
This is why in this page we will explain how to dress for Disney Springs along with the reasons why these are the best options.
Table of Contents
What to Wear to Disney Springs
First and foremost, you'll want to dress comfortably but with a hint of athleticism. Light clothing will go a long way in enduring an entire day of walking, sweating, and possibly even getting wet (from the rain).
Unlike traditional theme park attire, Disney Springs can be a bit more formal due to the amount of sit-down restaurants, shopping centers, dine-in theatre and even live music available.
Attire Checklist
Khaki Shorts/Pants or Jeans
Short Sleeve Polo
Walking/Running shoes
Sunglasses
Hat
Wallet & Driver's License
If Planning to Visit Typhoon Lagoon or Blizzard Beach on the Same Day
Bathing Suit
Backpack
Sunscreen
Water
Towel
You can find more information about what you can bring into these water parks directly from the Blizzard Beach and Typhoon Lagoon site.
What to Check Off On Your To-Wear List
Short Sleeve Polo
A Polo shirt is the perfect in between, between dressing up and dressing comfortable.
It will feel amazing during a breeze, they're lightweight, and you'll never feel underdressed regardless of where you walk into during your visit. 
Khakis or Jeans
Khaki shorts or jeans are perfectly acceptable (and most common). The one aspect to watch out for is that you avoid wearing jeans during the summer days.
Florida temperatures can reach 90+ degrees instantly, adding that on top of humidity, and you will get very sweaty in jeans very quickly.
Sunglasses
Sunglasses will allow you to be able to see clearly throughout the entire day (or else you will be squinting the entire day), while sunscreen will protect your skin from the sun.
Minnie Ears
Minnie Ears won't help you in any way except showing up to the park in fashion! It's fantastic for pictures, and you'll immediately blend right in with all of the other visitors wearing Disney gear.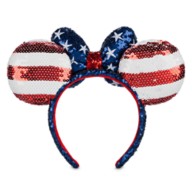 You can purchase Minnie Ears online from the ShopDisney site, or you can buy them at a World of Disney in Disney Springs.
Hat
A hat isn't a must-have to wear to the park but it is definitely nice to have as it will shield your scalp from the sun, while giving you the comfort of not needing to fix your hair for every picture.
Poncho
Although you necessarily won't 'wear a poncho', it's important to carry one especially if you're visiting during the summer months.
Florida is notorious for its afternoon rain showers, even if the sun is still out.
Rather than carrying a large umbrella for an entire day in case it rains, just carry an ultra lightweight poncho in your pocket or bag, and your future-self will thank you in the event that it does rain.
RELATED ARTICLES
Can You Get a Dole Whip at Disney Springs?
Are Dogs Allowed at Disney Springs?
Can You Go to Disney Springs Without a Park Ticket?
Can You Use Disney Gift Cards at Disney Springs?
Is Disney Springs Worth Going to?
Does Disney Springs Close When it Rains?
Can You See the Fireworks From Disney Springs?
Does T-Rex Cafe Take Walk Ins?
How to Get From Disney Springs to EPCOT